We only have a few days until Thanksgiving. All of us are working hard to make sure we have everything prepared and have taken care of those last minute details for the big day. I think some of us stress out so much because we know that once Thanksgiving is here Christmas is just a hop, skip and a jump away. We can lose sight of how special the day is. Growing up I can remember all the wonderful traditions we had. My family would all go over to grandma's for way too much food.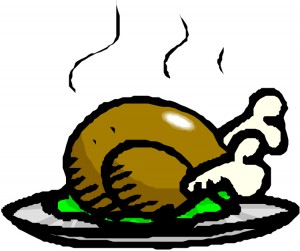 Then we would each take turns telling what things we were thankful for. The food, our family and friends would make some of the not-so-fun moments of the year seem O.K. The next day we would hit the stores and shop till we dropped. Then we would always end the day by putting our tree up while singing Christmas songs. Now we have all grown and have moved away and have families of our own. I want my children to have fond memories of the holidays as they look back, so we have decided to start our own traditions and I encourage you to do the same.
One of the traditions in our house is that every year, while the grownups are working in the kitchen, I set the children in front of the T.V to watch the Macy's Thanksgiving Day Parade. I would also give them a project to complete. I give them pre-cut leaves, pumpkins and turkeys all cut from my cutter as well as cardstock pre-cut into placemats. The kids decorate the placemats to use at the dinner table. (If you want to preserve these placemats, clear contact paper works great to laminate them). Then I take a sharpie and write the names of each guest on the placemat. The children feel like they are helping and they are not underfoot in the kitchen. It's a great way to get them involved
This year I am going to start another tradition for my family and hopefully, for my boys to carry on with their families. I have made a 6×6 scrapbook on "Things we are Thankful for". Every year at Thanksgiving, no matter where we are or who we are with, we will take our book. Each of us, and the people we share Thanksgiving with, will write in the book. Of course, we will also add pictures. Then, as years pass we can look back and remember all of the wonderful memories.
Comments
comments