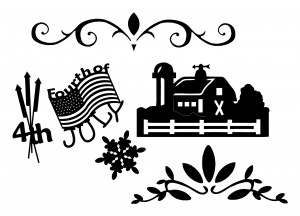 The biggest benefit to being an Inspiration owner is the ability to create and design within the software and not being restricted to costly cartridges with a limited amount of images. With the Inspiration Studio software you can create limitlessly. That means that whatever you can imagine, you can create! For those of you that are just getting started learning your new software or like the idea of cutting pre-made designs then you'll want to check out our Image Library here in the Craft Room as well as our image CD's that you can purchase in our online store.
I recently purchased a few image CD's and I'm having a hard time understanding why some of the image CD's download into my Image Gallery in the software and some of them don't.
Wanda J. Tydel Park, VA
There are a number of different CD's available for purchase here in the Craft Room in our online store. When we launched the Inspiration we also launched new CD's you could purchase as well. Since the new CD's would have the ability to download in to your Inspiration Studio Image Gallery they included a PIC file. This PIC file allows you to preview the image in your gallery before you actually import it to the page and cut it. Since our older versions of software didn't have the feature of previewing your images first in a library it wasn't necessary to include a PIC file. To clarify which CD's include the PIC file, they will be the disks that are packaged with the Inspiration logo and will come in a jewel CD case. In the store these CD's will be noted as having "auto load in to the Inspiration Studio". It's important to note that while we may have newer image CD's, there are a lot of wonderful images available on some of our older CD's as well. To see what images are available please visit our online store. Since the newer Inspiration images download to your image gallery in the software you'll always know where to locate these images. If you've purchased some of our older disks you can either save the images to your documents and retrieve them through the software that way, or you can always place the disk into your CD drive on your computer and import the images to the software. I have saved all of my older CD images to my documents, but I also kept the hard copy as well in the event that I ever experience any computer problems.
Comments
comments