The ornaments on the Christmas Tree Advent Calendar (released last Friday) are so amazing that I thought they were worth a second look.  Even if you do not follow the Advent tradition you will want to make the ornaments; they are truly mini works of art. Use them as they are or enlarge them. Either way they will be the perfect compliment to a holiday tag, card or gift. It won't take long for you to come up with ways to make them uniquely your own:
Use white flocked paper for a fuzzy snowman.
Enlarge the gingerbread people and cut them from chipboard.
Use the cottage as the beginnings of a candle luminary.
Santa could be cut from vinyl and mounted on a wooden plaque. Add a special greeting and hang him by your front door to greet holiday guests.
You could make a bunch of candy canes and hang them from twine to make a fun banner.
Enlarge the sleigh, attach to a box that has the side cut to match the sleigh contour and fill to overflowing with Christmas treats.
Oh my, I better get crafting! I have more ideas than I will ever have time for!! I hope I have inspired you to take a second look at these beautiful designs.
PS: Scroll down to see each individual ornment.
Happy Holiday Crafting!
~Chris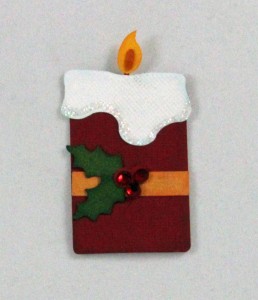 Comments
comments