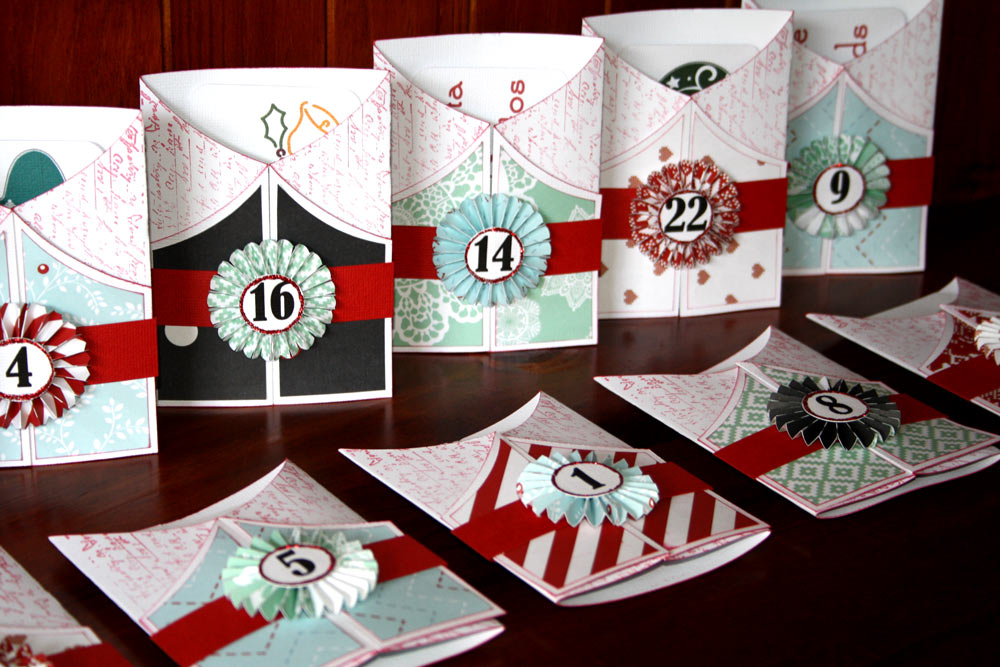 Not a creature was stirring, not even a mouse……
Can you believe Christmas is just around the corner? I'm constantly reminded by the children and also the Christmas merchandise that seems to hit the stores at the start of October! I'm sharing my 'countdown calendar' with all of you today and hope I leave you with some inspiration for your own interpretation of one. I changed my mind so many times of how I was going to create this calendar, but I have to say I'm very pleased with the result, and I can still go a bit further with embellishments if I want to. We haven't done a countdown calendar quite like this before, and so the thought of creating something with family activities built in sounded like fun.
The main files I've used are the Gate Fold Card from the Fun Folds 1 Cutting Collection, Assembling Rosettes files, and Pocket Card. I used the print and cut method for the small discs with each number and also for the activity cards.
After cutting and folding all of the cards, I inked their edges and stamped a script pattern on the back so when the cards were folded closed you aren't left with blank white paper. The next step was to cut out all the patterned pieces, and then ink those too before adhering to the cards. The rosettes cut out so quickly compared to making them by hand – thank you Pazzles Vue!
The belts for each card were secured around the closed card leaving a bit of give so they weren't too tight. It was then that I attached the assembled rosettes to the front of each card so I had them as close to centre as possible. I attached the numbered discs to the front of each rosette first, and then used red Kindy Glitz for the border of each disc. This is a finishing touch that always looks great. Without it, they wouldn't have looked finished.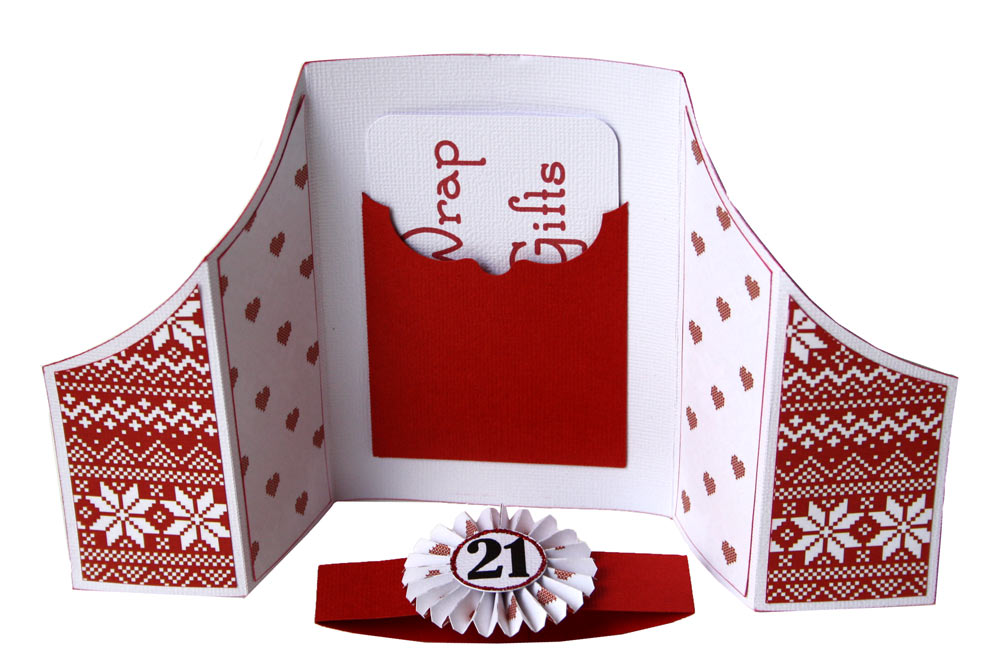 Inside each card is a pocket (Pocket Card File) holding an activity card for each night of your Christmas Countdown. I was able to fit 9 of these onto a 12″ x 12″ page so these cut out in a snap. I used red, pistachio and powder blue weave cardstock and selected the pocket colour for each card to co-ordinate with the front patterned paper. Each card has a different festive image that I chose from our vast collection in the Craft Room Library. All of the images I used on the activity cards were found in the Christmas folder under Holidays. With eight activity cards fitting nicely on an A4 page, I printed them on white cardstock and then used the Vue to cut around each one with nice rounded edges. Here are some examples of the activities on the cards.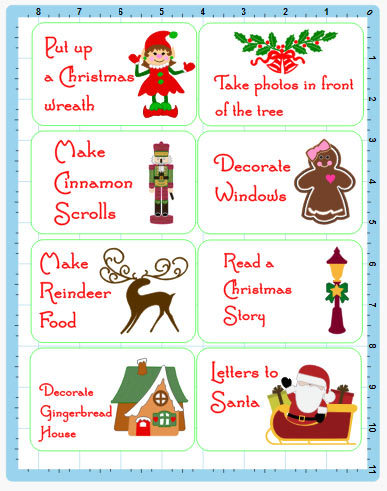 Once everything was assembled, I tied some twine to our buffet and hung each card with mini pegs ready for each one to be opened or the card lifted out each night we count down to Christmas.
Thanks for reading, and I hope I've inspired you to make your own Countdown Calendar – whichever form it takes.
~Belle
Supplies:
Kaisercraft North Pole patterned papers
Cardstock
Script stamp
Red Ink
Printer
Comments
comments