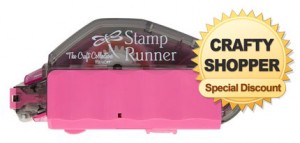 Our new members-only Crafty Shopper Special is a handy two-in-one Stamp Runner from Tombow Craft Collection. This permanent adhesive, dot-pattern tape runner has a double-function applicator that can work as either a runner or a stamper for precise placement. This runner is refillable so you can use it again and again.
We've been using plenty of this tape runner in the office. We love how dot-pattern runners don't break or twist the way a solid-line runner can. And the permanent adhesive was great for putting together Chris' Haunted Mansion, among other projects.
The suggested retail price for the Stamp Runner is $7.99. Our Crafty Shopper Special price is $5.95 and includes free shipping in the US! What a great stocking stuffer for your crafty friends. To purchase this Shopper Special visit the Pazzles store, log in with your paid membership account, and then click on Crafty Shopper Specials in the menu.
Note: Crafty Shopper Specials are savings deals we provide as part of Craft Room Membership. To access the deal, you must be a paid Craft Room Member and logged in to the Pazzles Store. Having trouble logging in to the Pazzles Store? Here's a PDF tutorial on logging in to the store. We can only offer free shipping within the US. For international orders, please call Pazzles at 1-208-922-3558. 
Comments
comments