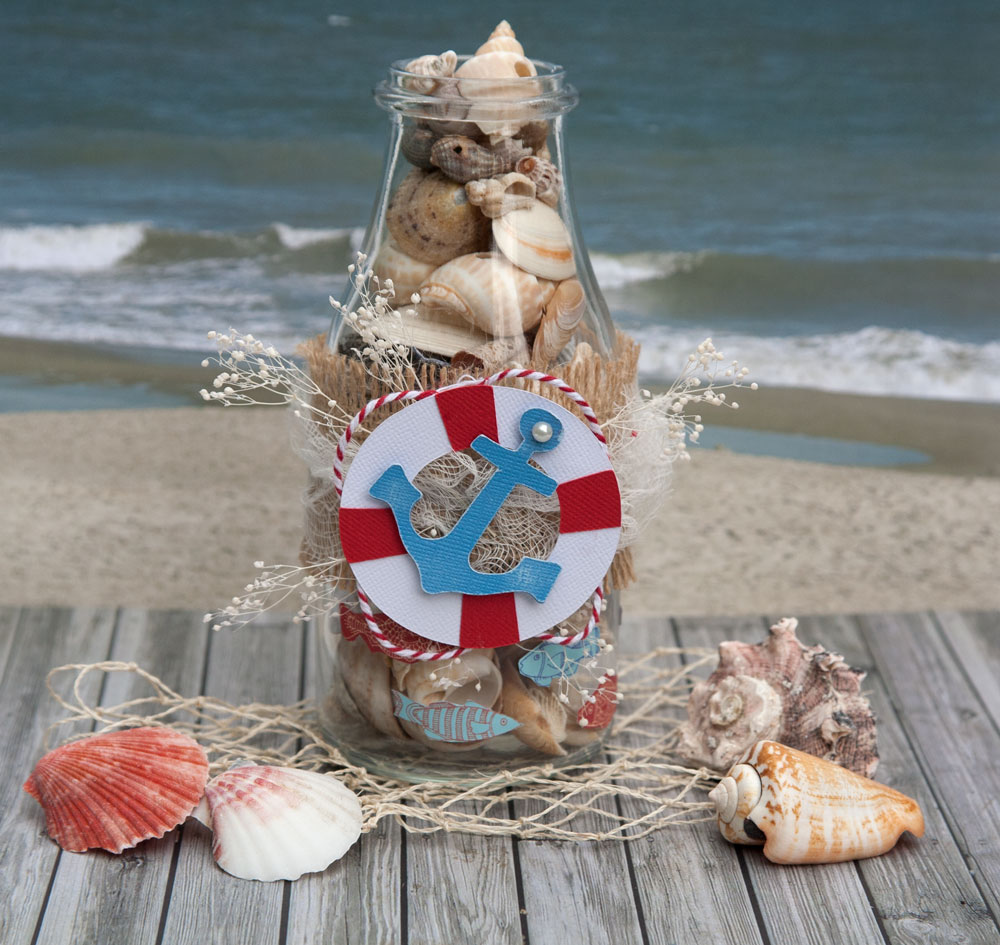 Hi fellow Pazzlers, Joanna here sharing my Home Décor item for my DT project this month. I love how I can use just one cutting file from the Library, as an embellishment, accompanied with other materials from my stash and turn it into a treasured item.
During the summer holidays I take the kids on lots of day visits to the beach. They love walking along the sea shore collecting the prettiest shells and on our return we have buckets of them! Unfortunately, they end up being stored in the garage where no one can see them, so I thought this year it would be nice to display them in a glass jar.
I used a glass jar that I purchased recently, no preparation needed! I secured and wrapped some burlap material around the glass jar and overlaid it with some white Voile. I cut out some fishes from some patterned paper I bought last year and adhered them using Micro Dots around the base of the jar.
I cut out my Anchor and Life Saver cutting file out of colored cardstock and sanded around the edges of the anchor to give a distressed look. I layered the Anchor onto the Life Saver using craft foam squares. Then, I loosely wrapped some red and white bakers twine around the Life Saver. Finally, I added some threads of dried flowers and filled my jar with our pretty shells.
Such a lovely reminder of our days by the sea.
~Joanna
Supplies:
Glass Jar – Ikea
Red, White, and Blue Cardstock
Burlap material
White Voile
Dried flowers
Red and White Bakers Twine
Kaisercraft self-adhesive pearl
Do Crafts Ahoy There – Patterned Paper (fish)
Stix 2 Micro Dots
Stix 2 Craft Foam Squares
Comments
comments