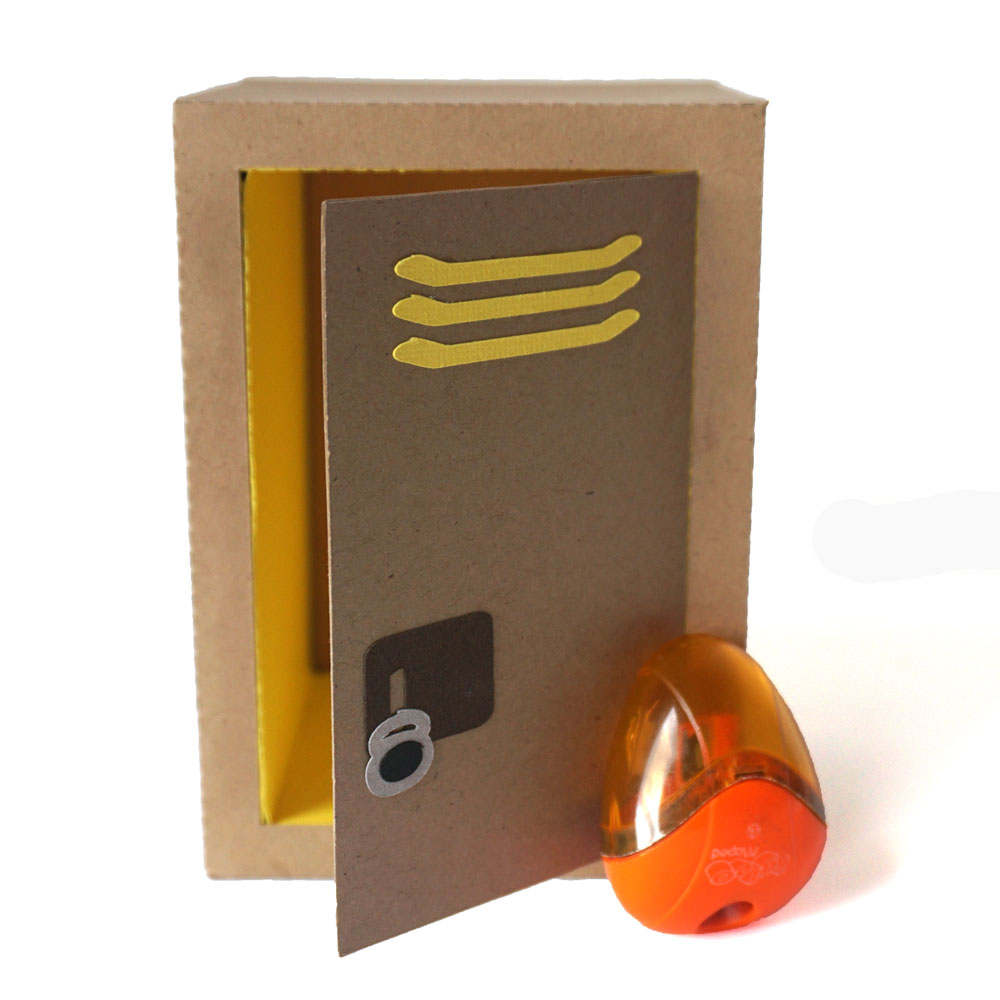 Time flies and it is time to go back to school again.  It is time to meet old and new friends and teachers. It is also time for new challenges, but the most important thing is to have fun.
This year my oldest boy goes to the Middle School. There are a lot of new things. One of these things is to have his own locker, to keep his belongings safe. So I thought I would do a Locker Box to welcome him to this new adventure.
I used the Drawer Box file to start my project and I have made some changes and additions to get the door.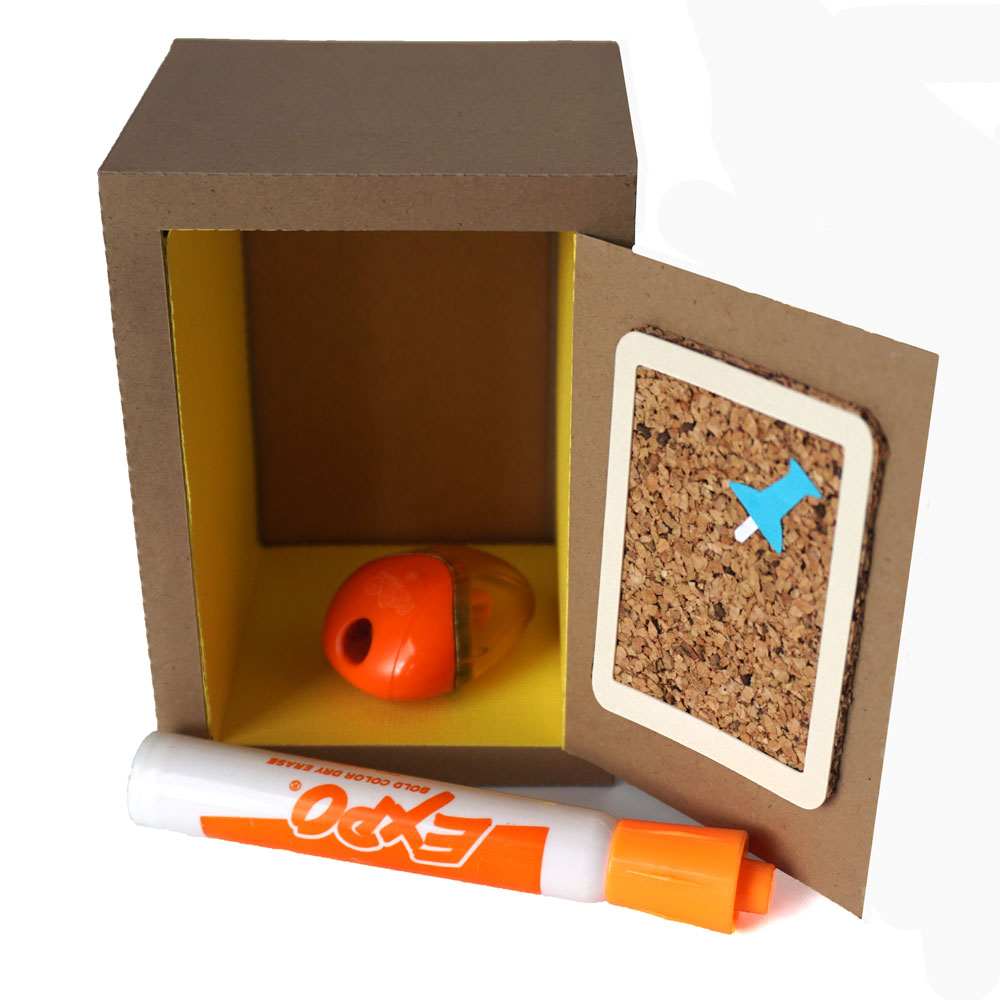 I've included the files I created below, but in case you want to create this from scratch, the steps I did to get the box as I want it:
Resize the part of the file for the structure to get a rectangular one.
Delete the part for the back and bottom of the box. Add the back and bottom of the box with the correct size, using the rectangle tool, change one side of the rectangle to score line, and connect them using connect two points tool to the other part of the structure.
Create a rectangle with the same height as the inner rectangle (window) and wide as double as the flaps with a line score at the middle from top to bottom to get a double flap.
Using the platform part of the drawer box file, delete one of the flaps so there are only one flap per side. For the door take one of the platform sides (right or left) and adhere the double flap so you get this side with double flap. One flap to hold the door and the other to adhere to the structure.
Change the size to the part of the cutting file with the back part of the box.
The door was decorated with the Locker cutting file that I found at the Pazzles Craft Room Library.
On the inside of the door, I put a corkboard with a push pin, using files from the Pazzles Craft Room Library.
The Locker box can be used for a gift with some candies or small school supplies.
Supplies:
Cardstock
Cork
Become a Member!
By becoming a subscriber to Pazzles Craft Room you will have access to this project as well as hundreds of other projects, thousands of cutting files, and so much more!
Get Pazzles Craft Room!
Join Now for only $19.95!

Buy Now!
Purchase this project now and get it in SVG, WPC, and AI formats.
Rectángulo de regalo del armario
El tiempo vuela y estamos de vuelta al colegio. Es tiempo de encontrarse con viejos y Nuevos amigos y profesores, tambien de nuevos retos pero lo mas importante es divertirse.
Este año mi hijo mayor va para Escuela Media.  Hay muchas cosas nuevas, una de ellas es tener su propio locker para mantener sus pertenencias organizadas. Así que me surgió la idea de hacer una caja con forma de locker como bienvenida a esta nueva Aventura.
Para la elaboración utilice como base el archivo Drawer box al que le hice algunos cambios y adiciones para la puerta, la cual decore  usando el archivo de locker que está en el Pazzles Library.
Los pasos para obtener la caja de la forma final son:
Cambiar el tamaño de la estructura para que sea un rectángulo
Borrar la parte superior e inferior de la caja para hacerla de los tamaños correctos para esto crear unos rectángulos con las medidas correctas para la parte superior e inferior, utilizando la herramienta para creación de rectángulos, uno de los lados del rectángulo se convierte en la línea de perforado para doblar. Luego conectar esto a la otra parte de la estructura utilizando  la herramienta de conectar dos puntos.
Crear un rectángulo de la misma altura del rectángulo  interior (ventana de la caja) y de ancho del doble de una de las pestañas con una línea perforada a la mitad a lo ancho para obtener una doble pestaña.
Usando la parte de plataforma interna del archivo Drawer box, elimine una de las pestañas en cada lado, es decir solo quedan con uno. Para el ensamble en uno de las plataformas laterales se pega la parte creada en el punto tres para que un lado quede con dos pestañas libres una para pegar los rectángulos que formaran la puerta y el otro para pegar la plataforma a la estructura.
Cambiar el tamaño de la parte del archivo que corresponde a la parte trasera de la caja para que tenga el mismo tamaño del rectángulo
Por detrás de la puerta coloque un tablero de corcho con unos pines usando los archivos del Pazzles Craft Room
La caja locker se puede dar como un regalo llena de dulces o pequeños elementos escolares.
Materiales
Cardstock 2 hojas color kraft
Cardstock 2 hojas 8×11 ½ color Amarillo
Corcho
Pedazos de cartulina de varios colores
Comments
comments