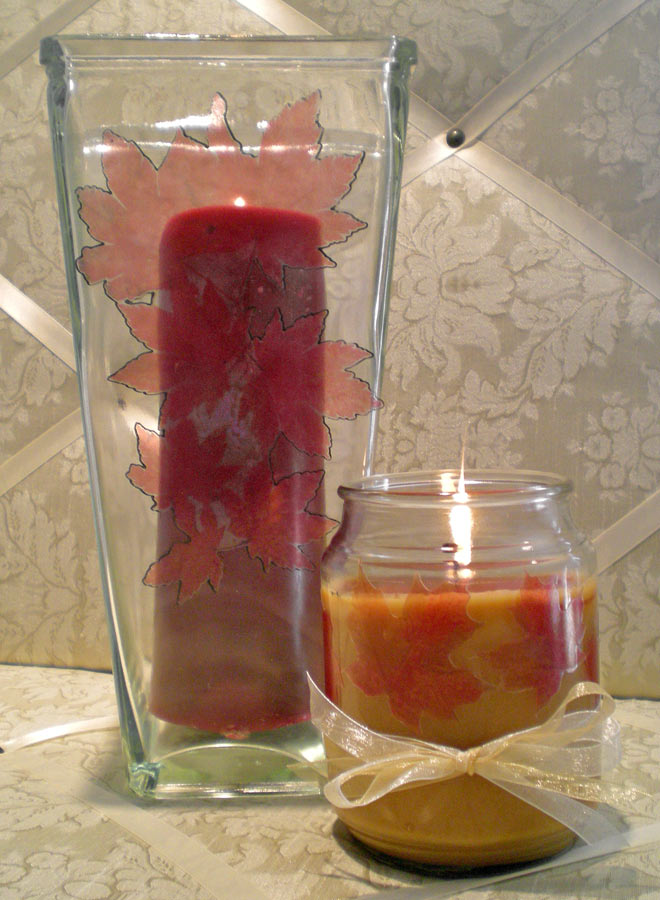 Last week I shared how to add color and shading to Pazzles Window Cling to make decorations for Fall. I hope you were excited to try the easy method of using alcohol-based markers on the cling plastic. This week I wanted to give you some ideas of how to use the Printable Window Cling that is included in the kit.
At first glance I thought printable window cling sounded so cool. I could print out the birthday kid's picture and add it to the other clings to really personalize my decorations. After that, though, I was stuck for ideas. This was because I only thought about using the printable cling for windows. I tried making some fall leaf clings using photos of real leaves but the cling was too subtle on the window. I really didn't see the beauty of the leaves with the outdoors shining through.
I hate for anything to go to waste so I started looking around for something to put the leaves on. This was definitely my 'ah-ha' moment. I put the cling on a candle jar and it looked amazing. It gave a really pretty stained glass effect with just the right amount of subtlety. (It also did not seem to be affected by the heat from the candle.) I realized that I had stumbled on a great gift or home décor idea. I used the Print and Cut method to make the clings. The clear cling means that your cuts don't even need to be very accurate and it will still look great! Follow the steps below to try this idea yourself.
1. Prepare for Print and Cut as usual: Choose your photo or design and import into the Inspiration software. Create a cutting line and place around printable image. Draw a square around the design to create placement template. (See the Print and Cut tutorials for more detailed instructions.)
2. Print the design onto the Printable Cling: In your printer setup choose Transparency option. Make sure you place paper in your printer so that the glossy cling side is printed.
3. LET THE CLING DRY for several hours, preferably over night. This is really important so that you don't smear the ink before it is dry.
4. When printed design is dry trim around the printed rectangle (Print and Cut method). Cut your template and place printed cling in the opening. Cut around printed design.
5. Clean the surface the cling will be placed on and make sure it is dry. Add cling where desired.
Notes:
The ink on the cling will always be a little susceptible to transfer. Since most printer inks are water or pigment based, your gift should be one that won't be handled frequently.
Choose a candle that contrasts with the colors of the cling so that the design will stand out.
Chris
Comments
comments