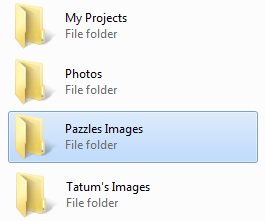 I love designing cutting files and as part of my job here at Pazzles it's important that I don't misplace or lose the images I've created for the image library in the Craft Room. After all—I'm designing them for you! I like the convenience of knowing that everything I'm creating for Pazzles is in one location. It helps keep me organized and it's a sure fire way to ensure that I don't misplace or lose the images I've worked so hard to create. Nothing is worse than working on a cutting file only to find later that you don't remember the location you saved it to, or the name of the cutting file to do a search. I have found that it makes life a lot easier if I know they're all in one location on my computer and here's how I do it.
Where do I save my images once I download them from the library?
Samantha Craft Room Member
I have created a folder in My Documents on my computer and labeled the folder "Pazzles Images". That way I know that this is dedicated solely for the images that I download from the image library in the Craft Room. If I am creating my own images I have another folder that I have labeled "Tatum's Images". This is convenient for me because it helps me organize images that I've created and those found in our Craft Room. It's important to make sure all of your images are going to one location so that they are easily retrieved when you get ready to start working on a project. Remember that the software doesn't save your images inside of the program. You will need to make sure that your images are stored on your computer, external hard drive, or a jump drive (for those of you who like designing on the go). Christine has always kept all of her jump drives and dongle keys on a lanyard. This is a convenient way to keep the important stuff in one location so that you aren't frantically trying to search for the images you've created and saved.
Comments
comments