Welcome to the Pazzles National Scrapbook Day Party! Every hour from 12-6 MDT we will be releasing a new free cutting file. Download it within the hour, because once it is gone, it is gone. Complete the coordinating challenge to earn an entry into our Prize Drawing. Craft Room Members can join us on the Member Chat for fun and games and extra prize entry opportunities.
As Klo finishes up her live class we will move onto the next challenge!
Guest Designer: PageMaps by Becky Fleck

Free Cutting File #4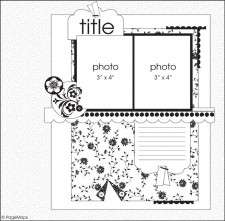 Whoopsie daisy! The hour that these files were free has passed. Try and catch the next ones!
Example Project

Challenge #4
Create a layout using this PageMaps sketch and seven of something, e.g.: seven buttons, seven rhinestones, a seven-letter title, etc. Feel free to adapt the sketch to any size you would like (8 1/2″ x 11″, 8″ x 8″ etc.)
Stitched Title Instructions (Layout by Michelle):
Needlecrafts are making a comeback and it is very easy to make a trendy stitched title for your paper projects. You can do this one of two ways. In the Inspiration Pro Software you can select the piercing option under Tools in the Color Palette. Select your spacing and hit apply.
With the Inspiration Piercing Tool in your creative cutter you can add piercing holes to your title. The pierced holes can be a little small for thicker threads like what I used here. It helps to use a sharp, wide needle when stitching with more than a few strands of floss or thick twine.
If you do not have the Piercing Tool you can change your title cut lines to kiss cut lines and follow along the dashed lines as you stitch. Either method will result in a trendy unique hand-stitched title.
Submit your completed project to our Gallery Challenge Album by Sunday May 12th 2013 for a chance to win one of our prizes. Each project gets you an entry into the random prize drawing. See our National Scrapbook Day FAQ page for questions on uploading to the Gallery Challenge Album. Please submit only new projects created specifically for this challenge.
Comments
comments