Every once in a while I get a question that I don't even really think about anymore, because I have been using the InVue software for quite some time.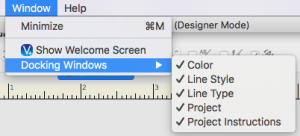 Fortunately, I am lucky to work with so many people that are new to Pazzles and I get to remember some of those beginning steps of using the software.
The question I got a few weeks ago is,  "My color palette is gone, how can I get it back?"
The good news is, it is very easy to fix.  Across the top of your screen click on the word Window, then click on Docking Windows.  You will see the options of items that will show on the right side of your software.  I recommend making sure there is a check mark in front of each one.
One small tip, if you happen to have a very small screen and will not need those items docked on the right, you can temporarily turn these off and give yourself a little bit more area to work in.